The foundation of improving life quality
A desire for new, cost-effective means to improve consumer health requires technologies capable of delivering innovative detection and prevention methods.
And as life sciences seek to transform their value stream across drug discovery and development, manufacturing, supply chain, and commercial, organizations realize that embracing a technology-forward strategy is necessary.
What is shaping the industry today?
Technology provides the key to unlocking bold digital aspirations for life sciences companies, yet digitalization comes with a broad range of challenges.
The shifts in consumer demand, new technologies, and an evolving competitive and regulatory landscape mean life sciences organizations require specialists with deep industry expertise who can guide their digital transformation.
Dig deeper
Drug research improvements

Emerging intelligent technologies enables better assessment and patient treatment.



As assessment devices such as MRI scans and patient monitoring tools integrate intelligent technology, doctors can use data to prescribe correct treatments.

As the complexity of regulations increases, businesses must achieve a balance between compliance risk and value.



Developing an integrated compliance view or a centralized compliance program can create a more flexible structure from which organizations can ensure the satisfaction of regulations today and in the future, especially regarding IDMP compliance.

Shorter approval timeline

The influx of machine learning capabilities accelerates cycle times, meaning approval of new products is far swifter than before. Technological advancements enhance the testing and trialing of life-saving medications.

Visible and transparent supply chain

As supply chains become more complex because of personalized devices and biopharmaceuticals, life sciences organizations embrace advanced digital technologies to deliver a new era of supply chain collaboration.

Increased digitalized diagnosis, consultancy, and treatment of patients

Doctors utilize a variety of digital means to assess and treat patients. Innovative methods, such as telemedicine, allow interaction to occur in the comfort of the patients' homes, improving efficiency and shortening waiting times.

Digital workforce and industry specialist supply

The need for digital talent, software engineers, and data scientists to design solutions that meet customer needs and drive revenue growth has led to a significant shift in the skills life sciences companies seek.

Life sciences organizations go cloud-first

Life sciences organizations are discovering the transformative nature of cloud technology and its offer of resilience, speed, and scalability without the heavy capital expenditure.



Unlocking the benefits of cloud computing can increase operational efficiency by creating a digital ecosystem where data is easily accessible and transforming businesses by standardizing global processes.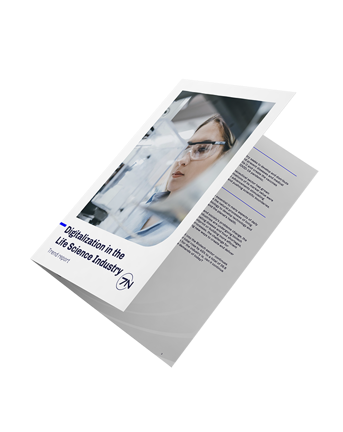 Get access to our trend report
The continuously increasing expectation of new, cost-effective ways to improve patient health through detection and prevention capabilities continues to rise. Read more about what trends drive the life science industry in our report.
Want to learn how we can help you?
Your project's successful implementation requires an understanding of your specific, unique goals and setup.

Reach out to discuss your challenges with our life science team.