Thinking out of the box is necessary to stay competitive
In the wake of the pandemic, the retail industry is finding its feet amidst a competitive and challenging environment.
Now, the retail industry must reconsider long-standing processes to meet demand and compete in the next era of retail.
What is shaping the industry?
While stores have previously ruled the retail industry, the market share of online marketplaces and E-commerce platforms is increasing.
Consequently, retailers must embrace an omnichannel approach and seamlessly integrate offline and online channels to create exceptional shopping experiences. Therefore, a secure, intelligent IT infrastructure is vital to these efforts.
Dig deeper
Supply chain disruptions continue to pose challenges for the industry. To overcome these challenges, retail businesses are investing in the means to ensure their supply chains are robust and flexible enough to handle any disruption.



Whether through integrating business systems into logistics companies' TMS solutions, improving forecasting and streamlining assortments, or global retailers investing significantly to predict demand more intelligently through micro-fulfillment centers or subscription models.

Digital commerce and omnichannel

Digital commerce is expected to maintain its upward trend, and new digital technology is paving the way for more immersive online shopping experiences.



Traditional retailers possess the advantage of long-help consumer relationships, but the surge in online retail activity is forcing retailers to rethink their approach.



The retailers of tomorrow are creating an omnichannel approach to deliver a more consistent shopping experience across all platforms. Adopting an omnichannel strategy requires creating a coordinated, seamless shopping experience and re-envisioning the role of physical stores in the process.

Today, consumers expect personalized shopping experiences. As a result, partnerships, investments, and M&A by commerce companies are vital to tie online and offline experiences to meet the personalization trend.



However, with so much dependence upon data to deliver personalized services, retailers face a significant challenge in maintaining compliance with evolving data regulations and information governance.

Digital workforce and industry specialist supply

As the digital sphere of retail operations grows in importance, retailers must identify their skills gaps and assemble the optimal workforce for their digital business needs, focusing on flexibility and quality.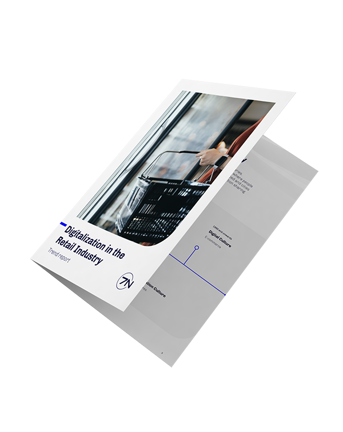 Get access to our trend report
Retailers are experiencing emerging digital trends to operate more effectively, whether leveraging digital technologies to adapt their operations or appealing to consumers' desire for choice and convenience. Read more about what trends drive the retail industry in our trend report.
Want to learn how we can help you?
Your project's successful implementation requires an understanding of your specific, unique goals and setup.

Reach out to discuss your challenges with our retail team.