Digitalizing the public sector
New digital platforms and infrastructure have become fundamental to citizens' everyday lives and deliver a crucial line of communication across the sector, enabling the sharing of vital information and speeding up decision-making processes.
However, despite these large-scale changes delivering nationwide benefits, technological developments have made IT projects more complex and, therefore, more challenging to design, develop, and deploy.
What is shaping the industry today?
Data and new technology will play a vital role in solving societies' biggest challenges.
Apart from managing labor, supporting the green transition, and providing improvements and innovations across public services, technology will help to establish new, sophisticated workflows that ensure public services can help those in need and deliver upon its core welfare purpose.
Dig deeper
Data transparency across authorities

Many citizens experience interactions with the public sector that are both fragmented and strained, especially when the contact involves several different public institutions.



Therefore, establishing more coherent processes requires authorities to exchange data and information more fluidly to deliver a more efficient public service.

Delivering care to those in need

It is a core part of socities' responsibility to take care of elderly and vulnerable citizens. Through technology, the public sector can ensure that all citizens in need of help receive the service, treatment, and attention they deserve.



It can be achieved by automating administrative tasks or implementing digital solutions that can accurately diagnose needs. As a result, institutions can be better positioned to act quickly: reach those in need and ensure they receive proper care.

Digitilization may be the key to combat climate change, and the implementation of novel technologies will support the reduction of the public sector's carbon footprint.



For example, AI has shown its ability to analyze data from building sensors and local weather forecasts to predict energy demand and supply for public buildings.



Streamlining energy management and monitoring nationwide energy consumption can ensure scarce resources are better utilized. Consequently, allowing the public sector to reduce greenhouse gas emissions and the municipalities' energy consumption expenses.

A robust IT infrastructure foundation

For the public sector to seize digital opportunities, it must continue to invest in and strengthen its IT infrastructure to protect sensitive data and prevent security failures.



In particular, the public sector must broaden its awareness of growing threats and improve its education around crucial operational procedures, such as data-, cyber-, and information security, digital architecture, and the creation and compliance of up-to-date legal frameworks.

Digital workforce and specialist supply with public expertise

As digital adoption in the public sector grows, so must its workforce's capabilities.



Identifying skill gaps and assembling the optimal workforce for its digital needs will help the public sector to work more effectively and deliver for its citizens.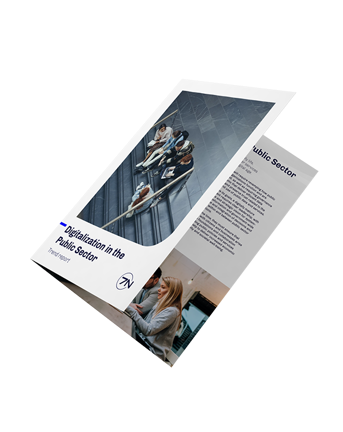 Get access to our trend report
The use of digital technologies has, in many ways, become a crucial condition for public sectors, both for citizens, businesses, organizations, and society, at large. Read more about what trends are driving the public sector in our trend report.
Want to learn how we can help you?
Your project's successful implementation requires an understanding of your specific, unique goals and setup.

Reach out to discuss your challenges with our public team.