Financial stability for a digital world
Healthy economies require strong financial sectors. Banks, central banks, payment providers, and fintech companies are all a part of providing stability and helping to realize the digital potential of the industry.
But digitalization comes with a broad range of challenges. The shifts in consumer demand, a highly complex and competitive landscape forcing changes in business models and ever-increasing regulations mean that businesses require specialists with the knowledge to guide their digitalization journey and support stable financial systems.
What is shaping the industry?
Today, the financial industry faces demand for digital solutions to make life better, easier, and more cost-efficient. As a result of technological improvements and a consumer market affected by the COVID-19 pandemic, the desire for convenient and safe options to manage one's finances has never been greater.
Dig deeper
Big Tech entering the market

Big Tech's delivery of innovative and personalized financial services has announced it as a significant player within the financial sector.

Bots replacing financial advisors?

With the merging of wealth management services and technology, a new generation of data-driven services and platforms grants more direct financial control to its clients.

Automation and blockchain for fraud detection

As the volume of financial data increases globally, automation technologies and blockchain are vital in ensuring that money transfers are traceable and reduce fraudulent activity.

Digital workforce and industry specialist supply

As the digital sphere of financial operations grows in importance, organizations must identify their skill gaps and assemble the optimal workforce for their digital business needs, which foster flexibility and quality needed.

Data governance for value-adding growth

For businesses realizing the advantages of their data environment, creating policies and standards around data governance can improve operational efficiency, security, and growth.

Financial institutions are no strangers to regulations. However, amidst rising concerns around the volume of personal data entrusted to financial organizations comes the need to adhere to rules regarding risk and compliance.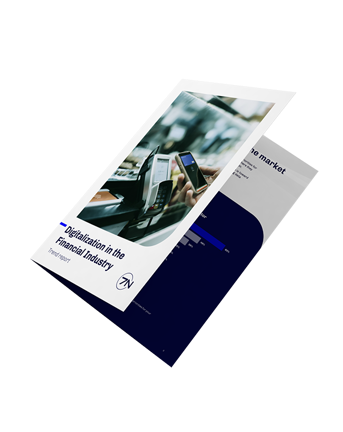 Get access to our trend report
Healthy economies require strong financial sectors. Finance companies are all a part of providing stability and helping to realize the digital potential of the industry. Read more about what trends drive the finance sector in our trend report.
Want to learn how we can help you?
Your project's successful implementation requires an understanding of your specific, unique goals and setup.

Reach out to discuss your challenges with our finance team.