Technology as a competitive enabler for other industries
Using digital technologies allows businesses to evolve and scale in unimaginable ways.
As the digital sphere of business activity grows, software providers embrace dual responsibilities:


They deliver the technological solutions that enable traditional industries to transform digitally – and ensure performance and productivity during the most challenging times.


They support businesses to innovate and adopt processes and products that serve their market positions and meet shifting market demand.
What is shaping the industry?
Over the past 20 years, digital transformation has resulted in an incredible demand for the tech industry to support businesses in reducing operational costs, increasing revenue-generating activities, and establishing innovative business models.
With societies' use - and expectations to - the impact of technology, not only businesses, but consumers are leveraging the power of modern software.
Dig deeper
The arrival of tech startups

The constant pursuit of new, exciting solutions means software rarely stays unique for long.



Today, small, well-funded companies are arriving on the market, possessing fresh ideas on established concepts and utilizing these technologies to create novel solutions.



The smaller the company, the more agile its approach, in contrast to the legacy infrastructure of more established firms, as they seek to take advantage of outsourcing and contracting labor and manufacturing.

From the bottom to the top line

Previously, companies leveraged digital solutions in the pursuit of cost reductions or the automation of specific processes.



In the wake of COVID-19, companies' reliance upon technology to facilitate many of their operational processes has increased dramatically, from adapting new working patterns to introducing new technologies and infrastructures to cater to the growing digital marketplace.

The growing curiosity about emerging technologies

An increasing number of technology companies have established internal observation units.



Understanding new technologies and their potentials, can help businesses better serve customers, navigate challenging disruption, and become a leader within their industry.

Customer-centricity in a digital world

For businesses, understanding their customers has never been more critical in a competitive global marketplace.



Yet, as the sophistication of modern technology increases, it allows businesses to place their customers at the heart of their technology and data strategy.

The explosion of data across businesses

The accelerated adoption of digital technologies has created an immense amount of underutilized data.



As a result, the technology industry is pursuing faster and more secure processes to accelerate data access, management, and analysis to uncover previously hidden customer insights and unlock new revenue streams.

Digital workforce and industry specialist supply

As the digital sphere of operations grows in importance, businesses must identify their skills gaps and assemble the optimal workforce for their digital business needs.



However, the technology industry is facing a need for more skilled specialists whilst demand for their services continues to accelerate. Emphasizing the high market demand for IT specialists, as the technological development continues.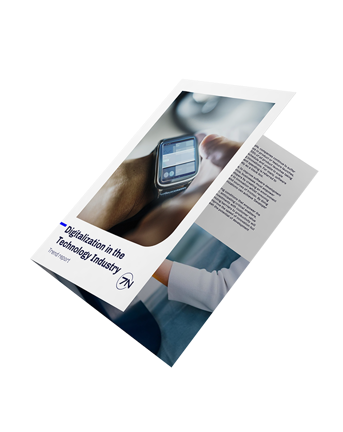 Get access to our trend report
Through developments in software, industries will continue to develop and adopt new products that serve their customer's needs and allow them to pursue even higher levels of performance and achievement. Get more insights on IT trends with our trend report.
Want to learn how we can help you?
Your project's successful implementation requires an understanding of your specific, unique goals and setup.

Reach out to discuss your challenges with our technology team.