Digital tools are providing a competitive edge
The energy sector is a complex industry responsible for many significant societal roles. For example, OEMs manufacture and deliver traditional or renewable power plants alongside utility companies that distribute power to the grid and energy retailers.
However, its most crucial function is generating and distributing power to residential, commercial, and industrial areas.
Yet, as power plant solutions reach a performance plateau, energy companies are searching for new ways to improve performance, increase energy output, and lower energy costs.
What is shaping the industry?
For energy companies, digital tools are providing a competitive edge.
These digital tools allow the energy sector to not only meet demand but intelligently predict maintenance needs and release the potential of power plants and grid efficiency.
Dig deeper
A demand for connectivity

Energy companies are connecting modern devices such as phones and computers with energy-specific technologies such as smart meters, power quality regulators, and more through the Internet of Things (IoT).



For consumers and energy companies, a digital approach offers many benefits.



IoT devices assist consumers in using energy more efficiently and provide access to real-time data across the energy grid.



Whereas for energy companies, it allows them to respond faster to changes in demand with improved speed and precision.

Converting data to insights through machine learning

Today, the volume of data regarding operational processes, consumer use, and preferences is a catalyst for change within the energy sector.



However, the real challenge for energy companies lies in the ability to capture, analyze, and measure the data thoroughly.



Hence, companies are restructuring data collection processes to recognize patterns and generate predictions or suggestions through machine learning tools to utilize the vast amount of information in their hands.

The traditional way of managing IT with on-premises solutions and acquiring hardware and software is still the approach of many energy companies today.



However, energy companies must take drastic action to navigate the industry's volatility and disruption. Cloud transforms the industry by breaking data and technological silos, and supercharging with differentiating capabilities.



The cloud can make every part of the energy industry run more efficiently, from capital projects to retail segments and corporate functions.



These benefits and the ease of integrating IoT devices make cloud computing vital to the smooth running of operations today.

Pricing and electricity rates are becoming more volatile as renewable energy takes a larger share of global energy production.



Moreover, as consumers become more service and price-conscious, they demand more transparency and insight into their energy consumption from their providers.



Thus, digital solutions can create an environment where devices can provide a channel for consumer engagement, allowing energy companies to become more customer-centric.

Digital workforce and specialist supply with energy expertise

As the entire energy value chain goes digital, energy companies must identify skill gaps and assemble the optimal workforce to meet their digital business needs to solve today's challenges and capture tomorrow's opportunities.

The energy sector must improve its resilience to technological threats. The critical nature of many energy system elements and their increasingly digitalized nature means exposure to cyberattacks and cybersecurity incidents threatens the security of energy supplies and consumer data.

Keeping infrastructure management compliant

The energy sector is the basis of our society.



Therefore, energy companies must ensure their management, processes, and rules regarding data across their IT infrastructure are compliant – especially when they seek to outsource the responsibility of operating their infrastructure.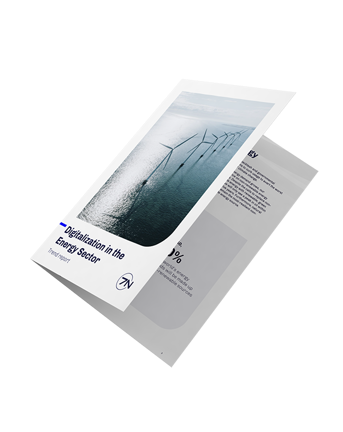 Get access to our trend report
The scope of digitalization is entering the energy sector to improve the safety, production, and sustainability of energy systems globally. Read more about what trends are driving the energy sector in our trend report.
Want to learn how we can help you?
Your project's successful implementation requires an understanding of your specific, unique goals and setup.

Reach out to discuss your challenges with our energy team.