Insurance goes digital
As insurers seek to digitally transform their value stream from product design to claims management – excellent IT becomes a ticket to play.
But, although digitalization signals increased opportunity, it also comes with various challenges. Thus, insurance companies require specialists with the knowledge and experience to guide and safeguard their digital transformation.
What is shaping the industry today?
All aspects of life include risk exposure. However, individuals and businesses have a choice; accept the consequences of potential loss or seek insurance coverage.
As new challenges arise, insurance companies must adapt their practices to respond to a changing regulatory and technological landscape and customer needs.
Dig deeper
Changing consumer expectations and demographics

Today, consumers have far greater control and choice.



For insurance companies to exceed customer expectations, delivering innovative services, streamlining administrative processes, and providing exceptional experiences that ensure the fulfillment of the customer's needs, remains at the heart of everything they do.

Capturing larger market share with just-in-time insurance policies

InsurTech companies are now venturing into pay-per-use business models. For customers, it allows them to purchase premiums only when necessary.



As its popularity increases among younger generations, these models allow insurers to consider risk holistically and support their pursuit of new market shares by obtaining valuable customer data.

Move from pay-out and protection to true prevention

As insurers embed technologies and draw out data from assets and people's lives through predictive behavioral analytics and IoT devices, they can better understand the causes of risks.

With those insights, insurers can tailor policies and premiums to the individual. In addition, the insights they acquire can ensure proactive intervention and prevent risk and fraudulent behavior.

Intelligent data processing is now a must-have

Previously, generic data was the insurance industry's core, focusing on geography, demographics, and claims history.



However, insurers are pursuing new forms of data analysis for a competitive advantage. The influx of online and telematics data and connected consumer IoT devices provide greater insight into customer behaviors and lifestyles to enhance the delivery of personalized services.

AI is now an integral part of insurances business processes

AI is having a seismic impact across the insurance industry, and its presence is visible across numerous processes.



In particular, analytic tools support insurance companies in delivering customized pricing and improving interactions that focus on customer experience and fraud prevention through chatbots, optical character recognition, sentiment analysis, and social media algorithms.

Cybersecurity strategies and compliance are non-negotiables

Insurers are a growing target for cyber attacks. The industry's reliance on technical solutions and data increases risks.



The consequences of a cyber attack can be severe and result in supply chain interruption and reputational damage that may be irreversible.



Insurance companies must evaluate the risks associated with their systems to ensure they understand how threats materialize and the controls necessary to prevent attacks.

Digital workforce and specialist supply with insurance expertise

As the value chain goes digital, insurers must identify skill gaps and assemble the optimal workforce for their digital business needs.



Whether for efficiency gains or to deliver upon consumer expectations, insurers require the personnel with the right digital capabilities to grow and safeguard their future.

Bridging the gap between legacy systems with RPA

Insurers have traditionally relied upon legacy applications and systems. However, over time, systems have grown isolated, causing decision-making friction, degrading agility, and increasing maintenance costs.



Yet, to avoid expensive investments in top-of-the-shelf technology or building systems from scratch, Robotic Process Automation (RPA) bridges the gap between legacy systems to improve the customer experience and productivity through faster operations and lower labor costs.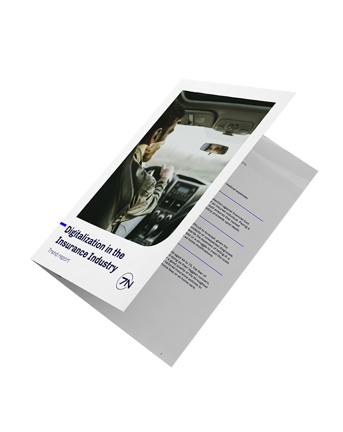 Get access to our trend report
Digitalization is advancing all aspects of society, and with a demand for demand for flexible and transparent insurance plans and complex risk assessments the insurance industry is no different. Read more about what trends are driving the insurance industry in our trend report.
Want to learn how we can help you?
Your project's successful implementation requires an understanding of your specific, unique goals and setup.

Reach out to discuss your challenges with our insurance team.